Bed and Mattress Inspection Reports (MI 1)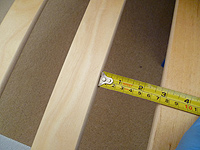 At Furniture Reports, as well as reporting on armchairs, sofas and cabinet furniture faults, we do a complete onsite report service for faulty beds and mattresses.
We deal with many customers in dispute with stores or manufacturers that are querying factors with relatively new beds. Some may have started to creak, or mattresses may have softened excessively after a short time or there may even be mainframe bed structure faults.
With each report our highly skilled upholsterers will work through a set of key checkpoints, and test each section of the bed to establish any faulty or suspect components.
We will put the bed set through a series of light tests and pressure point checks and findings will be logged, digital images taken as standard with every report. These will form the basis of your upholsterer's bedding and mattress report. The inspection usually takes 45-90 minutes, dependent upon complaint severity.
This will then put you, the customer, in a better position to approach the store with your complaint, backed by our independent Upholsterer's Report, with a view to resolving your issues thereafter. In most cases, if your complaint is upheld, you will be able to claim back the inspection fee from your retailer.