What do we do?
At Furniture Reports we can provide a comprehensive on-site inspection service for our customers that are in dispute with retailers, stores and manufacturers including unresolved warranty claims for your furniture faults and issues.
How can our furniture reports help you?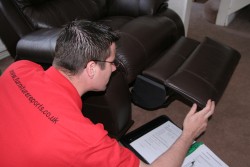 In the rare circumstances where a retailer refuses to acknowledge that goods supplied by them are faulty, unfortunately the burden of proof lies with the consumer if the consumer has owned the product longer than six months, or is seeking a full refund. Depending on your individual circumstances, it may be necessary to get an independent report on the furniture by an upholsterer.
It is advisable, under these circumstances, to agree your choice of report provider with the retailer - but you should remember not to select a report provider who may have a bias in favour of the retailer and to the detriment of you, the consumer.
Furniture Reports specialises in this field. We will promptly make an on-site visit to inspect your furniture, compile the relevant findings and provide digital proof if any faults are found. Our reports can then be used to reinforce your claim, giving you an invaluable tool for further negotiations.
Please read a Consumer Affairs article from the Guardian entitled
"Complaint about your new furniture? Expect a bag of nails"
by clicking here.
Consumer choice.
In cases of dispute, consumers are free to appoint any independent furniture inspection company that they wish, as a third party, and the subsequent report is admissible in court, should this be necessary. As previously stated, it makes sense to agree the report provider with the retailer, but you should not allow the retailer to dictate a choice that would benefit them over your interests.
If you are paying for an independent inspection to be carried out, then you are not obliged to obtain this from a company chosen by the retailer.
If the report shows that a fault exists and the retailer continues to dispute the contents of the report then it is a matter for the courts to decide and your report will be used as evidence. In extreme circumstances, and this has not yet happened for any of our clients, the court may request a new report from a "single joint expert" and we can also give advice at this point in the process.
Retailers cannot limit the fees charged by an inspection company in an attempt to limit your choice.
Should your case end up in court, the court will set the limit on the cost that can be reclaimed in relation to the report we provide. Fortunately, our charges are substantially less than the maximum allowed by the court. It should also be remembered that you, the consumer, will be left to pay the cost of any report, should the case be lost. So far, our clients have not lost a case that has gone to court.
All of our furniture inspection reports are carried out by time-served upholsterers.
We are completely independent, unlike any other service, bound or funded by furniture manufacturers or retailers. By virtue of us not being under contract to them, appointed by or otherwise, our customers are guaranteed the freedom of a fully independent Upholsterer's Report.
By having a professional, unbiased and independent report you are in a better position to put your case to the retailer in a clear manner backed by photographic evidence. The stores and manufacturers will then have an obligation by law to resolve your claim as our reports will clearly outline any faults, backed by images to pinpoint the issues.
Most furniture is backed by a 12-month guarantee, sometimes a 24-month manufacturer's warranty, which, if a fault can be proved, can often result in the exchange, repair or refund of goods to you the customer.
Remember that guarantees and warranties are in addition to and do not affect your statutory rights under law - this may mean that you, the consumer, could pursue the trader outside of this timescale. There is no pre-defined period in law which limits this timescale - it merely discusses what is considered reasonable in terms of many factors (satisfactory quality, durability, finish etc...).
If we find no fault we will make this clear in our report.
Why can't I get the Retailer to help me any further?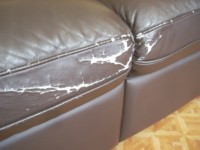 Some retailers and large chains utilise their own in-house service agents, but these may be contracted and paid for by the manufacturers, sometimes using bonus incentive schemes. These may vastly affect the quality of the reports, leading to inaccuracies about your furniture. Once the retailer has their report, your claim is taken off the system and deemed 'resolved', even though you the customer may not be satisfied!
That's where Furniture Reports can help. Our trained upholstery specialists with years of experience in furniture re-upholstery, repair and quality assurance can visit your home to assess your furniture, advise you of any defects in craftsmanship, and provide a written report which can be used as evidence.
Where faults exist, our service could be instrumental in helping you achieve your desired outcome with the retailer.
Our furniture reports are designed to help both you and the retailer by providing a detailed analysis of any faults found. The report contents may also be useful, should you find yourself in the minority of cases where agreement with the retailer cannot be reached, and which may then escalate to the point where a court will decide the outcome.
Consumer Direct.
This page has been compiled with kind assistance from Consumer Direct to whom we are grateful.
Consumer Direct is the government-funded telephone and online service offering information and advice on consumer issues. Consumer Direct is funded by the Office of Fair Trading and delivered in partnership with Local Authority Trading Standards Services.
So why use us?
Are we qualified?.. Do we have enough experience?.. You decide..
Here's a brief summary of our Inspector's previous Trade experience..
To clarify on his professional qualifications:

Jason Mark Cogley is a fully qualified Master Upholsterer from the London Guildhall (now Metropolitan) University and awarded full City & Guilds Qualifications with a Double Distinction in 1996.

Additionally he completed a ten year Trade Apprenticeship in Traditional, Modern and Bespoke Upholstery and Automobile Trimming at Bonners of Welling (Furnishers) Ltd.

Awarded by the City of London Worshipful Company of Upholders in 1997 for Advanced Traditional & Modern Upholstery Skills.

Prize Winner in 1997 from The Association of Master Upholsterers Summer Show event (Brighton)

He was also awarded a 2003 Certificate of Excellence from Leather Master UK.

He has over the years, been a former Inspector of Leather & Cabinet Furniture, Beds & Mattresses, Power Recliners, and numerous bespoke pieces for such names as European Warranty Services (EWS), The Regency Group & Homeserve Plc, Ecomaster, Multi-Master Warranties, Homeserve Warranties, inspecting previously for various high street retailers such as Harrods, Feather & Black, Courts Group, BHS, Dansk, Designer Furniture, Harveys, Multiyork, Marks & Spencer, Next, Furniture Village, Millbrook Beds, Bensons for Beds, Dreams, House of Fraser, Littlewoods, Brighthouse, Land of Leather, SCS, Celebrity and NIG Insurance services to name but a few..

The choice is entirely your decision..!
Report Fraud:
To ensure our Report accuracy and to stop Online Fraudulent activity taking place, all our professional Furniture Reports go through a tight validation check and are authorised only from our main office. If you are receipt of a report that you suspect is not genuine please contact us on the above number as soon as possible. This may add a small delay to the reports process overall but has been put into place to safeguard Furniture Reports and our responsibility to our customers.
Please note all Fraudulent Activity will be logged and subsequently reported to the Police.